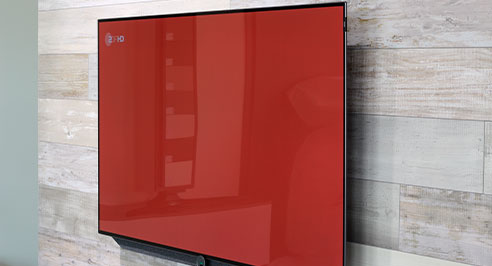 The best 55-inch TVs
Each season has its own fashion. Years ago, Very High Definition, with a diagonal of 100 or 127 cm, was the norm and 55-inch televisions were considered luxury products.
---
With prices falling, everyone can and wants to enjoy 4K resolution with 55" televisions. Which of the current 140 cm models are the best valued and most recommended? We tell you everything.
1. Best Basic: CHiQ U55H7A
As surprising as it sounds, the CHiQ U55H7A is a 4K HDR TV. It is even one of the most requested models in 2020. Enjoy superior images with deep blacks, thanks to a backlight ahead of its time.
Before being an excellent 55-inch 4K HDR TV, the CHiQ U55H7A is a very good Android TV. This model has everything you need to fully enjoy your favorite content. It allows Wi-Fi, Bluetooth and Ethernet connections. The TV also supports Chromecast, the Play Store, and integration with major entertainment platforms like Netflix and Amazon Prime Video.
The CHiQ U50H7A has an LED-backlit LCD panel that offers a relatively standard contrast ratio of 4000:1 and a brightness of around 280 nits. This will not impress connoisseurs. On the other hand, support for content in HDR 10 and Dolby Vision HDR will leave more than one speechless. Finally, this 55-inch television has HLG (Hybrid Log-Gamma) technology, which displays more vivid images.
2. Best High-End: Sony Bravia XR-55A90J
A perfectly calibrated picture supported by infinite contrast thanks to OLED screen technology: this 55-inch TV from Sony is impeccable in terms of resolution, sound and ergonomics.
Clearly, this 55-inch TV from Sony carries the high-end label well. With a native 4K resolution of 3840 x 2160 pixels, this TV offers the infinite contrast characteristic of OLED screens and perfect calibration backed by a very high peak brightness. When you combine that with 178/178 viewing angles and well-tuned gameplay, you have to admit that all the elements come together for a resolution worthy of a home cinema.
In addition, this 55-inch TV from Sony has an audio system that works perfectly as a center speaker: the Bravia XR system in action. Compatible with game consoles, it offers a native refresh rate of 100 Hz. On the connectivity side, it has enough HDMI ports with 2 in 2.1 and 2 in 2.0. Connect all your devices via Chromecast 2 or Airplay 2 for fans of the Apple brand.
3. Best OLED: LG OLED55C16LA
In the 55-inch OLED TV category, you can hardly do better than this model from LG, which offers good HDR colorimetry and delightful infinite contrast.
Image quality is undoubtedly the key argument of this 55-inch OLED TV from LG. The fact that each pixel is made up of 4 color sub-pixels (red, green, blue and white) allows this TV to maintain colors at 6500K. Also, with OLED technology, viewing angle resolution remains excellent. , the contrast remains infinite; especially since Filmmaker mode accentuates the perfection of colors. Furthermore, the test reveals a peak brightness of 740 cd/m²; an LG feat.
In terms of sound, LG's 55-inch OLED TV sticks to the same speakers and subwoofers as its predecessor. Despite a drop between 5500 and 9000 Hz, the set is still acceptable for a TV, but a sound bar would not be rejected. Versatile, it is equipped with a digital TV tuner, Bluetooth 5.0, very practical and a standby power consumption of only 0.5 W.
4. Good High-End Alternative: Samsung QE55QN85A
The Samsung QE55QN85A QLED TV is a 4K model of the flagship Neo QLED lineup launched in 2021. The series sits just below the flagship Samsung QN90A and is sold at a very competitive price.
By design, the Samsung QE55QN85A TV will look great in any room. We find the clean modern lines that we find in all modern televisions. With a thickness of only 2.7 cm, the Samsung QE55QN85A is very slim and can find its place on the narrowest of tables. With the QE55QN85A, Samsung offers us a 55-inch 4K TV that benefits from its new Neo QLED panel.
The Samsung QE55QN85A offers most of the features found on Samsung's higher-end QE55QN85A, including HDMI 2.1, 120Hz refresh rate, Samsung's Smart Tizen platform, as well as gaming-related features such as frequency variable update and automatic low latency mode.